About AACE
The African Alliance for Electronic Commerce (AACE) is meant to be a framework of exchanges and sharing about trade facilitation. It groups 18 member countries and seeks to promote the SW concept, in compliance with recommendations of international institutions. One of the Alliance's key projects is the establishment of a Regional Single Window that will interconnect all national platforms (NSW) with the view to smoothening trade and enabling African countries to be more competitive on the global market.
Read : http://www.african-alliance.org/en
The Regional Single Window (RSW) of WAEMU
The concept of Regional Single Window has not been defined properly by the different international bodies. It can be defined as a Single Window federating national Single Windows operational in a given region to facilitate cross-border and international transactions and, pool the relevant resources and skills. The Regional Single Window should not be considered to be an entity but rather a data exchange facility and a framework for the adoption and, implementation of international standards in the matter.
The WAEMU Regional Single Window Project sprang up from the meeting of the Council of Trade Ministers held in Dakar, Senegal in 2006 and which recognized that "the establishment of SW Systems can efficiently contribute to the removal of obstacles hindering trade".
The RSW will be built on a simple organizational model. National Single Windows will exchange data among them via the Regional platform. Then, each NSW is responsible for the exchanges with its local users. Thus, it will not be possible for a customs administration or economic operator to directly connect to the RSW, except otherwise authorized by the national Single Window. Moreover, the Regional SW can be developed and hosted ad hoc, or simply derive from one of its members that has the technical capacity to offer services to the others.
The following diagram describes the organisation of the WAEMU RSW: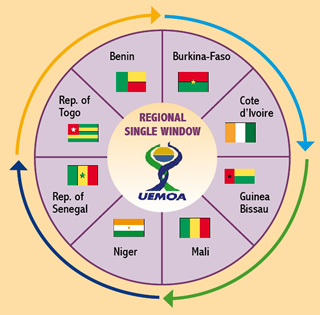 Easy access to the data related to the Single Window of each country